Why we can't stop talking about it
Small talk is an essential part of any language, and important to master when looking to connect with locals in your new home country. These types of talks can be about anything; from simply asking someone about their weekend to chatting about work and daily life. But if you are an expat in The Netherlands and are looking to fully integrate and strike up a conversation with literally any Dutchie, there is one topic you'll never want to skip: Dutch Weather. And even more specifically: Rain in The Netherlands. 
Rain in the Netherlands - facts & figures
Regen in Nederland – feiten & cijfers
You must have noticed, either from experience or by hearing the Dutch complain, that it rains a lot in The Netherlands. But does it though? According to the Dutch Weather Station, the average rainfall in 2020 was 860mm. Compare this to the wettest place on earth (Mawsynram in India) with over 10,000mm a year, and you start wondering: how can it be that we feel like it's always raining here? 
Well, it does seem to be raining quite a lot, just not that much in one go. As various places in the world deal with tropical storms and hurricanes, in The Netherlands we mainly suffer from scattered and smaller rain showers throughout the day. On average The Netherlands deals with 100 minutes of rain per day and 130 days of rain per year, with October being the wettest month (13 days) and April the driest (9 days). That's quite a lot of rainy days to be fair. 
Dutch weather can be very unpredictable, which is another reason why it seems to be raining more than it actually does. From sunrise to sunset it's possible to experience hail, sunshine, thunderstorms, rain showers and snow, while all we were dressed for was a breezy summer day. We forget about those 40 minutes of sunshine and focus on the lousy hour that we spent on the bike, soaking wet and facing the wind headfirst.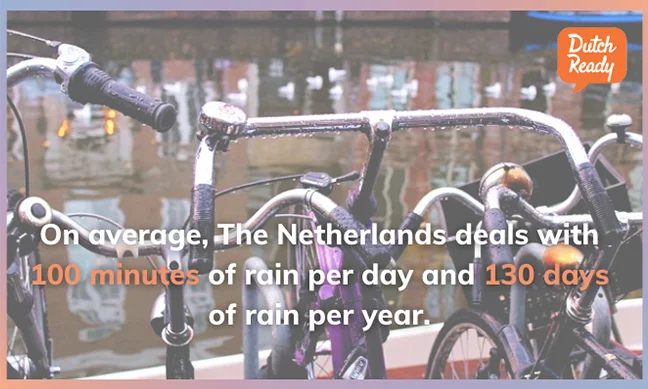 Having to deal with rain often, makes us Dutchies want to talk about it a lot too. As an expat in The Netherlands, the weather is therefore a great conversation starter in basically any group of Dutchies. 
To fully explain the type of rain you are currently dealing with or have dealt with on your way over, you can make use of an extensive rain-vocabulary. We will go over some of the most used words:
Motregen
drizzly kind of rain
Miezer
drizzly rain almost invisible to the naked eye
Druilerig
sad grey weather with "motregen"or "miezer
Spatjes
spatters
Buitje
Small rain shower
Stromende regen
Pouring rain
Striemende regen
rain in combination with strong winds
Stortbui
heavy shower
Gietregen
another word for heavy shower
Plensregen
one more word for heavy shower
Wolkbreuk
extreme amounts of rain in a short time
Noodweer
extreme rain and wind
We Dutchies also love to invent creative sayings when it comes to rain such as: 
"Het regent pijpenstelen!"
It´s raining pipe steals! (It's raining cats and dogs)
"De regen komt met bakken uit de lucht vallen"
The rain comes pouring down from the sky
Besides just aiming at the rain, the Dutch also love to complain about the weather as a whole. Any of the following words are appropriate when wanting to express how much the weather is bumming you out: 
Hondenweer
Baggerweer
Zeikweer
Beestenweer 
Rotweer
Pisweer
Rukweer
Poepweer
Takkeweer
Flutweer
Pestweer
Schijtweer
How to deal with rain in The Netherlands
Hoe om te gaan met regen in Nederland
Now that you know how to talk about the rain, it's time to figure out how to actually deal with it. Because let's face it: you won't be able to escape bad weather when living in the Netherlands. 
The one thing you want to do when arriving in the Netherlands is making sure to download the apps "Buienradar" and "Buienalarm". These resources will turn out to be your lifesavers and tell you exactly where, when, how much and how long it will rain. Perfect for trying to travel in between two "buitjes" while still getting to work on time. 
To avoid overall wetness on the bike we advise you to purchase a jacket with a hoodie or, even better, a rain suit. Placing a plastic bag on top of your saddle keeps the butt dry, and a saddlebag will keep your laptop and work documents secured from "zeikregen". 
When all of this has failed to keep you dry, what is left to do is deal with the wetness and complain about the rain. The above list of common rain-words will get you started, while further expanding your weather vocabulary can be done by using our free vocabulary lists in the app Quizlet. 
Want to talk about more than just the weather? Then consider taking up Dutch classes online or in-person with one of our private Dutch tutors. Besides talking about rain, your Dutch as a whole will increase rapidly, while learning more about our culture and habits at the same time. And great news: no cycling in the rain for Dutch class, your teacher will come and visit you in the comfort of your own home! 
Book your private trial lesson here for just €15 and become a true Dutchie in no time!