Traditions in the Netherlands | New Year's Eve explaind
Eating 12 grapes at midnight, wearing red underwear, decorating a New Year Tree…every country and culture has its own set of New Year's Eve traditions, and The Netherlands is no exception to the rule. While the evening itself mainly revolves around eating, drinking and fireworks, the morning after has a cold surprise in store for you that you might not expect (or are looking forward to). Here's all you need to know about New Year's Eve in The Netherlands!
Celebrate the New Year with oliebollen and appelflappen
Vier het nieuwe jaar met oliebollen en appelflappen
As an expat in The Netherlands you must have heard about "oliebollen", freely translated as oil balls and also known as Dutch doughnuts. These delicious deep fried delicacies are made of flour, yeast, eggs, milk and raisins and are usually eaten warm with a sprinkle of powdered sugar on top. Another traditional snack in the oliebollen-category are "appelflappen", small deep fried pies filled with apple and particularly tasty when eaten fresh and hot. 
Although oliebollen and appelflappen are traditionally eaten on New Year's Eve (and New Year's Day serving as a hangover breakfast), oliebollen-stalls are already set up throughout the country from November on. Getting your deep-fried snacks on the 31st of December can present a challenge at times, as stalls are usually crowded from the early morning till late in the evening. Don't ever get your oliebollen or appelflappen from the supermarket though, you'll want them fresh and straight from the frying pan. 
Want to feel like a true Dutchie and make your own oliebollen? Find a delicious recipe here!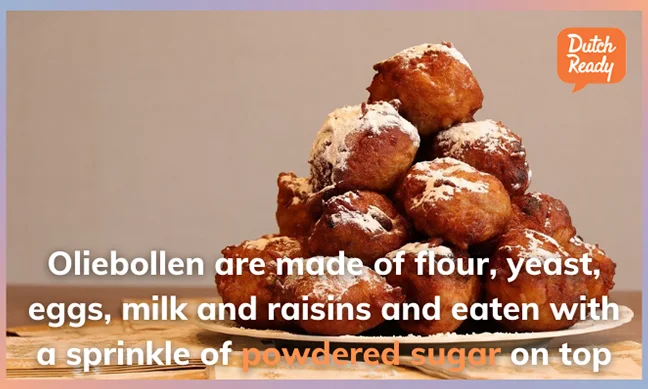 Light your own fireworks on New Year's Eve
Steek je eigen vuurwerk af op Oudejaarsavond
From 6 pm on New Year's Eve until 2 am on New Year's Day, Dutchies are allowed to light their own fireworks out on the streets. Isn't that dangerous you wonder? Well, yes it is, as injuries and vandalism occur frequently and emergency rooms are usually packed on the evening of the 31st. Purchased fireworks do need to comply with certain legal standards, and may only be sold during the last three days of the year. 
*Note: the sale of consumer fireworks for the turn of the year 2021 – 2022 has been forbidden due to Covid-19. 
Although it might sound like a crazy idea, lighting fireworks is a tradition that many Dutchies have fond memories of, specifically from when they were young. Carefully selecting your fireworks in advance, lighting them up at midnight with your parents while wishing everybody in the street Happy New Year's…when you ignore the nuisance, injuries and air pollution, it's actually a pretty fun tradition.
Tip: More a professional firework kind-of-person? Then visit Rotterdam on New Year's to watch the national fireworks from the Erasmusbridge!
Enter the New Year a millionaire with an Oudejaarslot
Ga het nieuwe jaar in als miljonair met een Oudejaarslot
An "oudejaarslot" is a lottery ticket explicitly sold for the Dutch New Year's Lottery. The ticket includes a specific and unique number (that you choose) and offers a grand prize of around 30 million euros. The results are announced at midnight, and apart from the grand prize there are several smaller prizes to win as well. What a great start to the New Year that would be right?
Go to a party or create one at home
Ga naar een feestje of maak er één thuis
As happens in many countries and cities around the world, bars and clubs in The Netherlands generally organize specific (highly expensive) parties during New Year's Eve. If you're spending  New Year's Eve in The Netherlands, it's highly recommended to buy your tickets for a particular party in advance, as there will hardly be any public places open to bypassers. Same goes for restaurants, where you are expected to make your reservation weeks ahead. 
As the search for a great party usually creates lots of "gedoe" (Dutch for 'issues / troubles'), Dutchies normally tend to stay at home and create get-togethers with friends, family and other loved ones. The evening will generally consist of eating lots of oliebollen, playing board games, watching the "Nieuwjaarsconference" (stand up comedy on tv), and lighting fireworks at midnight, accompanied by champagne.
Start the New Year fresh with a Nieuwjaarsduik
Begin het nieuwe jaar fris met een Nieuwjaarsduik
One of the most interesting New Year's traditions in The Netherlands must be the Nieuwjaarsduik (also known as the Polar Bear Plunge). Every New Year's Day at 12 pm, over 30.000 people around the country collectively dive into the icy cold waters of the North Sea to start the year afresh. The event is professionally organised at 89 beach locations along the coast and is free for everyone to attend. Unox (a brand famous for its wintery dishes), adopted the Nieuwjaarsduik years ago and started the tradition to wear a Unox branded orange hat when diving into the ocean. 
Want to dive your way into the new year? Unfortunately, this year's event (2022) is cancelled due to Covid19, but the official website will keep you updated on next year's events and locations. Plus: you're always free to take a dive by yourself of course!
Now you know all about New Year's Eve in The Netherlands, it's time to start preparations. Get your oliebollen and appelflappen sorted, set your lucky Oudejaarslot number, and get your swimwear out for the big dive, we're only a few weeks away!
Interested in finding out more about Dutch traditions and culture? Then check out our blog page. We've got you sorted with all you need to know about traditions such as Sinterklaas, annoying stuff like Dutch weather, and various interesting language hacks. You can also follow us on Instagram, or explore the language and culture in private with our 1-on-1 Dutch lessons!