Ever realized that the Dutch people you meet sound nothing like the Dutch you're learning? It's a pretty frustrating feeling, specifically when you have spent lots of time taking Dutch lessons. Unfortunately, Dutch dialects are a part of our language, and learning more about them will only help you in your quest of becoming a true Dutchie. We'll go over a few of the most common Dutch dialects in this article, and we'll hopefully get you up to speed with the most common "not-so-Dutch" words you are likely to encounter in various parts of The Netherlands.
The most common Dutch dialects
De meest voorkomende Nederlandse dialecten
The bad news is that Dutch has hundreds of dialects, with the official number being somewhere between 250 and 400. Research shows that it's very likely that these dialects have been around for hundreds of years, while "standard" Dutch was introduced only later as an attempt to bring the dialects somewhat together.
As The Netherlands is such a small country, having hundreds of dialects means that you could be hearing tons of unfamiliar words after just a 10-minute drive! Now it's really unnecessary to learn all the various dialects, specifically as most Dutchies are only familiar with the one they grew up with. But once you know which city or region in The Netherlands you'll be living in, it will be very useful to know which dialect to expect and how to prepare for it. In this article, we'll cover 4 of the most common Dutch dialects: 
Hollandic: (Hollands) spoken in the provinces North Holland and South Holland, as well as parts of Utrecht.
Low Saxon: (Gronings) spoken in the province of Groningen and parts of Drenthe and Overijssel
Brabantian: (Brabants) spoken in the province of Noord – Brabant
Limburgish: (Limburgs) spoken in the far south, the province of Limburg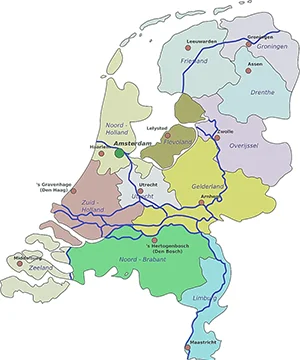 Besides having a big variety of dialects, The Netherlands is home to a second native language called Frisian ("Fries"), which is spoken by most of the inhabitants of Friesland. Fries is closely related to both Dutch and English but is generally quite difficult to understand, even for native Dutch speakers. Moving to Friesland? Make sure to sign up for some Frisian language classes!
We'll start with addressing the easiest of the dialects: Hollandic. You'll encounter this variation of Dutch in the western part of the country, and will find it's quite similar to the standard Dutch you are learning in class. The Hollandic dialect characterizes itself by using hard "g" sounds, and clear pronunciation of words. Although Hollandic is considered to be 1 dialect, it is divided into several urban dialects, mainly spoken in the larger western cities such as Den Haag, Rotterdam and Amsterdam.
The Hague dialect (Haags)
Even though the grammar and sentence structure of the Haags dialect is very similar to standard Dutch, it can be quite a tricky dialect to understand. The difficulty lies mainly in the pronunciation of words, and the sounds that are produced. 
An example of a commonly used sound is "âh", which replaces "auw", "ouw", or "er" at the end of a word.
English
I love you
Dutch
Ik hou van jou
Haags
Ik hâh van jâh
English
Delicious
Dutch
Lekker
Haags
Lekkâh
At the same time, the letters "en" at the end of a word, are usually found to be replaced in sound by "uh"
English
To run
Dutch
Rennen
Haags
Rennuh
English
To laugh
Dutch
Lachen
Haags
Lachuh
The Rotterdam dialect (Rotterdams)
Rotterdams often sounds quite "tough" and a bit rough around the edges. It's not a very difficult dialect to understand, there are however lots of typical Rotterdams words, expressions and sayings that you most likely won't be familiar with when arriving in the city for the first time.
English
To eat
Dutch
Eten
Rotterdams
Nassen
English
You're right
Dutch
Je hebt gelijk
Rotterdams
Ja toch, niet dan?
English
Really?
Dutch
Echt waar?
Rotterdams
Oh ja, joh?
Besides using typical words and expressions, the Rotterdam dialect is known for using "ie" as the personal pronoun of the second person ("hebbie?" instead of "heb je?") or placing a "t" at the end of various verbs ("ik doet" instead of "ik doe").
The Amsterdam dialect (Amsterdam)
No need to worry too much about the Amsterdam dialect. You'll mainly be confronted with it when speaking to older people, having lived their entire lives in the city. It is a fun dialect to get familiar with though and you'll hear lots of it around the cities of Almere and Lelystad, where many people from Amsterdam have moved to over the years. 
Speaking in typical Amsterdam form means you'll mainly replace all the "z" sounds with a hard "s". (son instead of zon). Furthermore, an Amsterdam dialect is laced with its very own vocabulary, with lots of words originating from Jewish:
English
See ya!
Dutch
Doei!
Amsterdams
Mazzel!
English
Dude
Dutch
Gast
Amsterdams
Gozer / Ouwe
English
Joke
Dutch
Grapje
Amsterdams
Gebbetje
The dialect in Groningen comes from the Low Saxon dialect, which is spoken in parts of Groningen, Drenthe and Overijssel. Even though this part of the country knows an enormous variation of sub-dialects, there are a few general observations to make. 
The eastern and northern dialects of The Netherlands might sound a bit like mumbling to you, and many words and letters tend to get "swallowed" (like "renn'n" instead of "rennen"). The "ij' sound is usually replaced with "ie" ("kieken" instead of "kijken"), and the "ie" sound is replaced with "ai" ("nait" instead of "niet"). Are you still following? 
A couple of typical Gronings words and expressions to add to your vocabulary:
English
Hi!
Dutch
Hoi!
Gronings
Moi eem!
English
What's your name?
Dutch
Hoe heet je?
Gronings
Hou haist doe?
English
Kiss
Dutch
Kus
Gronings
Smok
The first very obvious observation to make when listening to "Brabanders" speak, is that they tend to talk with a soft "g". This makes Dutch sound less harsh and gives a French ring to it. Furthermore, you'll find that the "t" is usually left out as the final letter of a word ("wa is da?" instead of "wat is dat?"). 
Lastly, in Brabant, the word "kei" is used to express how great/hard/stupid/fantastic something is. How to use it? Easy, just stick it to any word you want to: 
Gezellig = kei gezellig  / Zwaar = kei zwaar / Moe = kei moe
In general, Brabants is known to sound "funny" and "cute" to northerners and is often compared to Belgian Dutch. A few commonly used Brabantian words and expressions are:
English
You're kidding!
Dutch
Dat meen je niet!
Brabants
Wa zedde nou!
English
Bye!
Dutch
Doei!
Brabants
Houdoe!
English
Almost
Dutch
Bijna
Brabants
Bekant
As with the Brabantian dialect, words in Limburgish are pronounced with a soft "g". Where Brabantian is still quite easy to understand though, Limburgish is considered to be a whole different language by some linguists. The vocabulary, which is a mix of Dutch, French and German, can differ a lot from standard Dutch and is therefore pretty difficult to understand. Furthermore, the intonation of Limburgish is different (it sounds more like singing than talking), and words are generally elongated. 
The province of Limburg knows tons of sub-dialects, which vary from village to village and make it hard to describe "typical Limburgs". There are however a couple of very specific words and expressions used in most parts of Limburg:
English
Excuse me?
Dutch
Sorry?
Limburgs
Wablief?
English
Goodbye / See you later!
Dutch
Tot ziens!
Limburgs
Hoije, haije, adieë (wa)
English
What happened?
Dutch
Wat is er gebeurd?
Limburgs
Enne?
Moving to Limburg soon? Don't worry, Limburgians understand Dutch perfectly well and are likely to reply in proper Dutch once they find out you're not familiar with their dialect. A short Limburgian crash course could come in handy for the long term though.
Even though there are hundreds of Dutch dialects out there, and some of their vocabulary and pronunciation might throw you off at times, with standard Dutch you'll always be able to get around in The Netherlands. Besides the fact that all Dutchies will understand you, all news and government broadcasts will be done in standard Dutch as well. 
Ready to get started on Dutch? A quick way to learn standard Dutch is by taking part in our private Dutch lessons, where we help you master the language in only a matter of months using our unique teaching method. From there on, you can focus on learning some fun words and phrases in dialect, learn more about traditions and Dutch culture, and become a true Dutchie in no time. Sign up for private lessons below or start practising by using some of our free lesson materials!