Traditions in the Netherlands | Sinterklaas explained
As an expat in The Netherlands, you will quickly hear about the tradition of Sinterklaas. Something with an old guy handing out gifts? Putting your shoe out? Pepernoten? It can get confusing as Sinterklaas is celebrated not only on 1 particular day in December, but also spreads out over a couple of weeks in November. We'll explain the meaning, history and practical insights of Sinterklaas that you'll need to be aware of when integrating into this particular cultural festivity. Sinterklaas only a kid's party? Think again!
Who or what is Sinterklaas?
Wie of wat is Sinterklaas?
Sinterklaas is based on a legendary figure called St. Nicholas, the bishop of Myra (Turkey) and patron saint of children. After his death in 343 a.d., stories about his good deeds quickly spread around Europe and were transformed into a holiday (the Sinterklaasfeest) during the Middle Ages. This originated with helping the poor by putting money in their shoes, and later evolved to putting presents in children's shoes. The Dutch have moved the original celebration date from the 6th of December (the name day of St. Nicholas) to the evening of December 5th, when Sinterklaasavond (also known as "pakjesavond" or "het heerlijk avondje") is celebrated.
You will recognise Sinterklaas as being a dressed up, stately man with a long white beard, red mitre and a red cape over a bishop's alb. He traditionally rides a white horse, holds a long ceremonial shepherd's staff, carries a big book with children's names and is accompanied by many helpers called Piet. These "Pieten" assist Sinterklaas with handing out sweets to children and racing down chimneys to fill their shoes with presents.
Traditionally Sinterklaas and Piet were said to be keeping track of "naughty children", spanking them with a chimney sweep's broom and placing them in a bag to take back to Spain. Over the years this tradition has (luckily) faded out, and kids in The Netherlands can be joyful about the arrival of Piet and Sinterklaas instead of having to fear spankings or abductions.
The arrival of Sinterklaas to The Netherlands
De aankomst van Sinterklaas in Nederland
While St. Nicholas was a Turkish bishop, the current Sinterklaas is said to come from Spain. He arrives in a designated town in The Netherlands by steamboat every year, on the first Saturday after November 11th. Sinterklaas, riding his horse and accompanied by his Pieten, is officially welcomed by the town's mayor. The arrival is broadcast on national television, and children from all over the country line up to welcome the saint and his helpers while singing songs and cheering him on. After he enters the country, Sinterklaas will spend the upcoming weeks visiting schools, shopping malls, and children's houses.
Three weeks of presents from Sinterklaas
Drie weken lang cadeaus van Sinterklaas
From his arrival to the country until the actual Sinterklaas-eve on the 5th of December, children in The Netherlands are entertained with stories, visits, Sinterklaas news broadcasts on tv, and presents from the saint. Besides their stops at schools and malls, Sinterklaas and his Pieten are said to ride the rooftops at night, sliding down chimneys and delivering gifts to well-behaved children. Gifts that will have to be earned by quite the nightly ceremony: 
Before going to bed, Dutch kids are told to fill up one of their shoes with a present for Sinterklaas and his horse (e.g. a drawing, a bowl of water and a carrot), and place it by the fireplace (or whichever place works for households without a fireplace). This will have to be accompanied by a Sinterklaas song, sung so loud and clear that Sinterklaas will be able to hear it up on the roof. 
An example of a traditional Sinterklaas song:
Sinterklaas Kapoentje,
Gooi wat in m'n schoentje,
Gooi wat in m'n laarsje,
Dank u, Sinterklaasje
Sinterklaas Capon, 
Throw something in my little shoe, 
Throw something in my little boot, 
Thank you, Sinterklaas(je)
The following day, all excited and eager, kids wake up to a shoe filled with a small present or treat. Typical Sinterklaas treats are pepernoten & kruidnoten (small round gingerbread cookies), chocolate letters, speculaas and marzipan candy.
Sinterklaas Eve in The Netherlands
Sinterklaasavond in Nederland
When the 5th of December finally arrives, kids (and adults) can hardly contain their excitement any longer. As Sinterklaas Eve is literally called "present evening" (pakjesavond), this night is about one thing and one thing only: receiving gifts! 
In a household with children up until 7 or 8 years old, Sinterklaas Eve is traditionally celebrated with lots of Sinterklaas songs, pepernoten and a big burlap sack filled with presents and poems. These are believed to be delivered by Sinterklaas and Piet themselves (who have usually run away so quick that you'll never be able to spot them).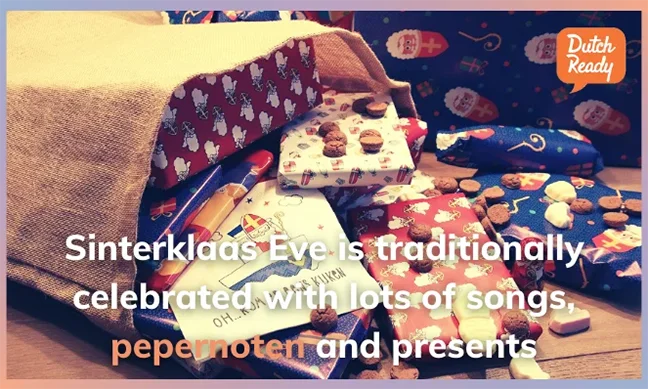 But Sinterklaas Eve is not only fun for kids. Once the truth has come out and children are notified it was all a lie, the celebration of Sinterklaas Eve often lives on between families and friends in a different form. The fun typically starts weeks in advance, when names are drawn and every person is to create a handmade creative work of art for the person they picked (so-called "surprise", pronounced as "surpreesah"). The surprise is filled with an actual present inside and is accompanied by a handwritten "funny" poem, for each person to unwrap and read aloud. So yes, some creativity (and time) is needed for Sinterklaas Eve to succeed, but with fun and excitement guaranteed. 
And then the 6th of December comes around….some will say they're sad it's all over, others will be relieved that the days of eating pepernoten and fabricating semi-hilarious poems have passed. Time to start preparing for Christmas, Easter and Kingsday. Before doing it all over again next year…
Sinterklaas or Santa Clause?
Did you know that Santa Clause is actually based on Sinterklaas? And that many of the Christmas traditions come from the celebration of Sinterklaas? Take reindeer on the roof for example (Sinterklaas and his horse), Santa's little helpers (Sinterklaas' Pieten), gifts in your sock by the chimney (gifts in your shoe) and gifting Santa with milk and cookies (water and a treat for Sinterklaas' horse).